We Love What We Do & It Shows – Let Us Show You!
See Bar Harbor and Acadia National Park the Best Way, "From Above." With Scenic Flights of Acadia, you will gain a unique perspective of Bar Harbor, coastal Lighthouses, Acadia National Park, Cadillac Mountain, and more. Walk-ups are welcome or call ahead to reserve a time for you.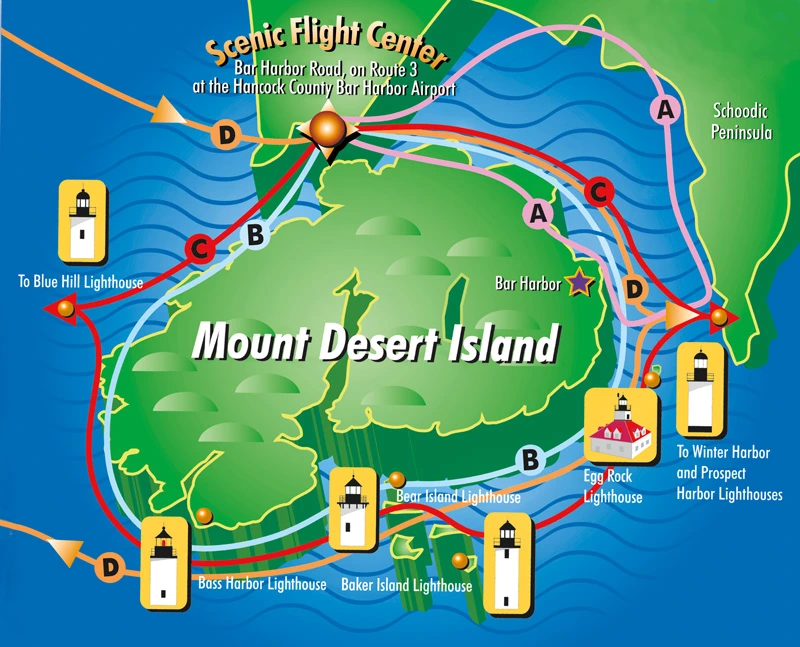 You will be comfortable in our high-wing Cessna 172 or Cessna 206, offering unobstructed views of the beauty below you, with an experienced Commercial Pilot at the controls. Our pilots are knowledgeable of the area and will share information on the sights, as each seat is equipped with an interactive headset making for easy conversation.
We are committed to being a good neighbor by minimizing aircraft noise. We operate the quietest airplanes providing tours near Acadia National Park and the Bar Harbor area. Our scenic flights are tailored to provide the quietest flights and exceptional views of the area.
A – Schoodic Point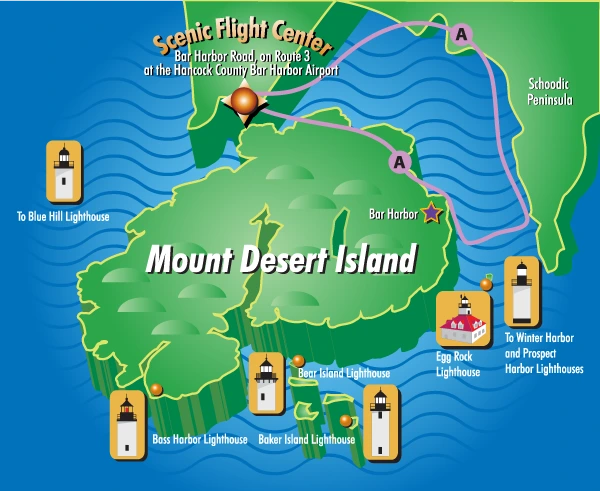 $114 per person
(approx. 25 minutes)
This picturesque flight brings you towards Downeast Maine, flying by Hulls Cove, Bar Harbor, Sand Beach, Egg Rock Lighthouse. Then, it's on to Winter Harbor and its lighthouse with spectacular views of Schoodic Point, Frenchman Bay, and inlets.
Reserve Your Flight
B – All Acadia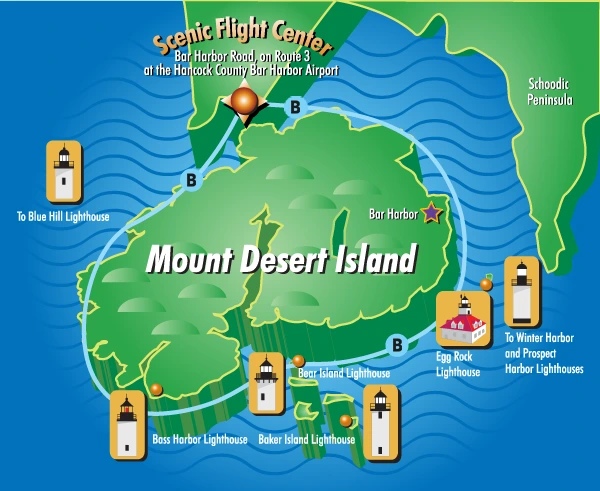 $144 per person
(approx. 35 minutes)
You will enjoy fantastic views of the whole Mount Desert Island on this popular flight as it flies around the entire perimeter shoreline, highlighting Bar Harbor, Acadia, Cadillac Mountain, Northeast Harbor, Southwest Harbor, Bass Harbor then on to the beautiful cliffs, mountains, and islands along the western shore. This tour showcases three historic lighthouses.
Reserve Your Flight
C - Deluxe Lighthouse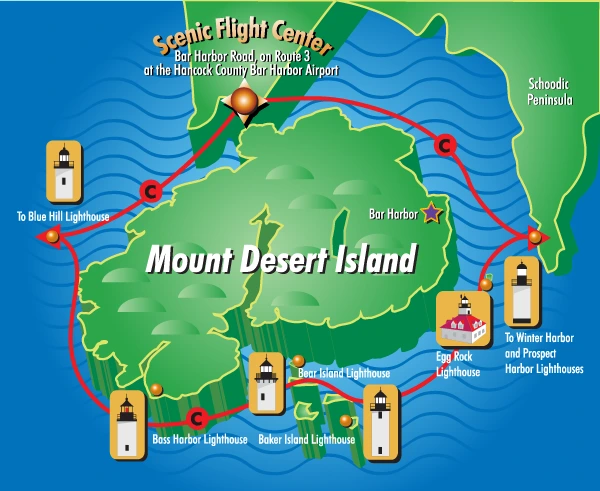 $184 per person
(approx. 50 minutes)
See it all with this favorite flight! In addition to the beauty of the All Acadia tour of Mount Desert Island, your flight will head offshore to capture the stunning views of Schoodic Point to the east, Baker Island and the Cranberry Islands to the south, and the Blue Hill area to the west. Seven coastal Lighthouses are highlighted on your journey.
Reserve Your Flight
D – Historic Penobscot Bay Lighthouse Tour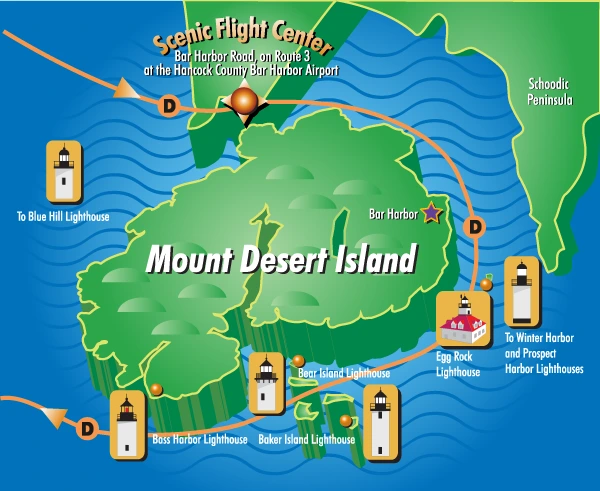 $244 per person
(approx. 75 minutes)
This ultimate excursion will offer you stunning views of areas that few visitors witness. Enjoy the natural beauty of the Maine coast while savoring some of Maine's best Lighthouses, shorelines, and islands. Twelve Lighthouses along with Fort Knox and the Penobscot Narrows Bridge are highlighted on your personalized tour. This is a must-see for Lighthouse enthusiasts and those wishing to view the Maine Coast and Islands as only seen from the unique perspective of above. Two passengers minimum for this flight.
Reserve Your Flight
Sept – Oct: Fall Foliage Flight!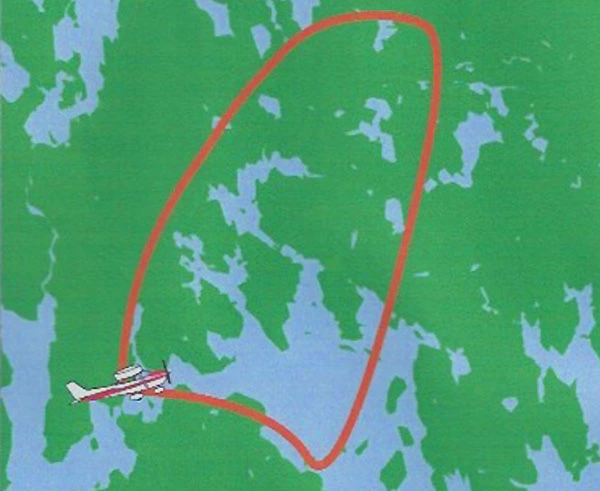 $144 per person
(approx. 35 minutes)
Starting from the airport, you'll fly along the coast to Bar Harbor and Cadillac Mountain before crossing Frenchman's Bay to head inland to Tunk Mountain. From there you'll wind through the surrounding mountains, lakes, and fields on the way back to the airport, all in the search of the best, brightest fall colors.
Reserve Your Flight
F - Deluxe Fall Foliage Flight
$184 per person
(approx. 50 minutes)
This amazing flight is for those who want to take in the best of the Acadia region along with the beautiful fall colors that the area is known for. You will see the perimeter of Mount Desert Island and the three lighthouses that surround it similar to the All Acadia tour. In addition your pilot will fly inland around the mountains and lakes which host the most brilliant colors of the area.
Customize Your Flight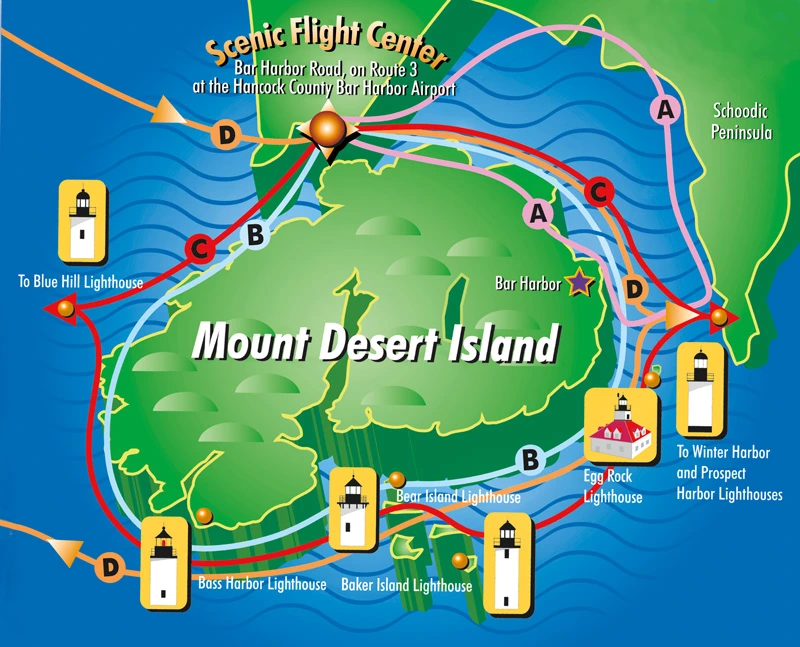 For those who want to see an area, not in our standard tours, we can customize a Scenic Flight or Aerial Photography Flight. Whether it is your own personal property, a list of 'must-see' Lighthouses, or anything in between, let us know what you want to view from the air. We will give you an estimate of the time and cost. Call us for more information at (207) 667-6527.